A P60 is a statement that summarises how much tax your employer paid.
This is issued and sent to you by your employer at the end of each tax year (31st of May).
Most employers do it by the end of April when they run their monthly payroll.
What's in a P60 form
Your National Insurance number
How much you earned in a given tax year (gross income)
How much tax has been paid
How much National Insurance was paid
Your details and your employer's
What does a P60 form look like
There is no standard format for a P60 (each may look a bit different) but the minimum information on it is always the same.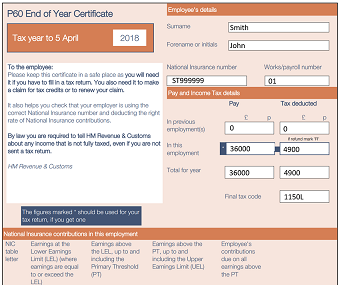 The information on your P60 is provided by your employer to HMRC, and based on this HMRC makes their tax calculations.
You should keep your P60 for your tax records.
What do you need a P60 for
To prepare your annual self assessment
For your tax records and tax disputes
Sometimes when dealing with banks (proof of income for mortgages, personal loans, credit card applications, etc.
With TaxScouts it may be possible to get your self-assessment done without a P60 — assuming that you have access to your HMRC goverment gateway.