We started TaxScouts because we saw just how difficult it was do to our own taxes and also how hard it was to find a reliable, fast, and (especially) affordable tax accountant.
Our online tax return service:
1. Saves you the hassle
TaxScouts puts you in touch you with a certified tax accountant in minutes and gets your self assessment sorted quickly.
Most of our clients see their self assessment submitted within 48 hours.
The whole tax return process is broken down into simple questions that you can answer with "yes", "no"…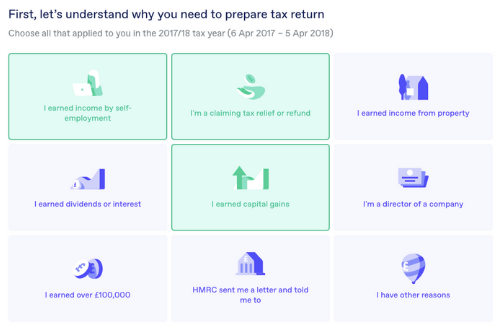 …or with a number: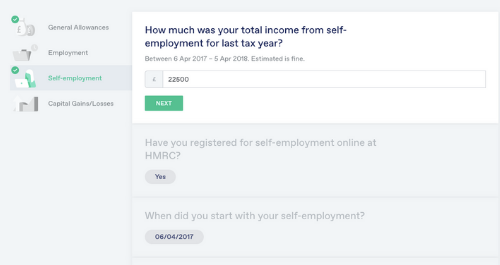 Our accountants will take it from there.
Also, TaxScouts is entirely online, so you can use anything: a PC, a Mac, a tablet, even a phone.
No need to buy a scanner — just snap a picture and send your documents straight from your phone!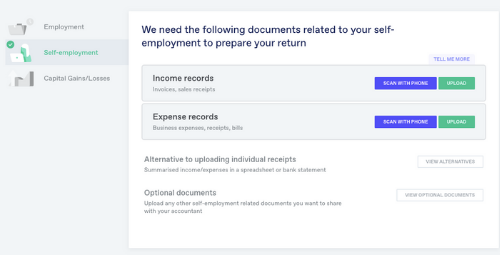 What our customers love most:
that our tool it's super easy to use
that an accountant is always there for you
that our customer service team guides you through everything.
2. Saves you from expensive mistakes
At Taxscouts we hear a lot of horror stories from customers whose accountants have messed up their tax returns.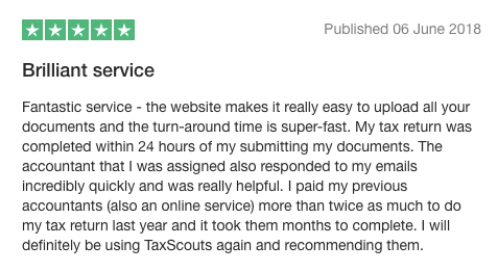 With us the whole process is visible both to you and your accountant:
what documents your accountant needs
how much tax you will pay
what you could do to save tax.
Many of our customers even find out that they are due a refund!

3. Saves you time
At TaxScouts we automate almost everything so you don't need to fill in form after form.

4. Saves you money
Many of our customers are surprised to hear we charge only £119.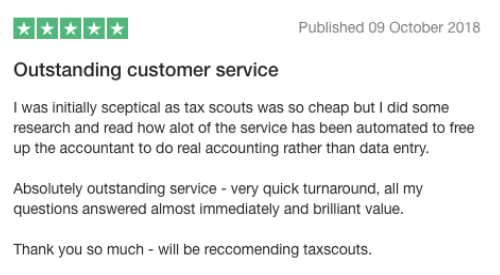 The answer is very simple: we automate a lot of the work that traditional tax accountants have to do manually.
That's why we're able to keep our pricing down to a £119 flat fee per tax return: regardless of how complicated your self assessment is, you won't pay a penny more!