CIS (short for "the Construction Industry Scheme") was set up by HMRC to collect income tax throughout the year from people working in the construction industry.
Construction companies deduct tax on behalf of their workers (subcontractors) and send the money to HMRC as tax payments:
20% for workers who have registered themselves as subcontractors with HMRC
30% for those who have not.
Note that CIS applies only if you work in construction as a subcontractor (usually registered as self-employed).
How does CIS work?
Example: Big Woodworks Ltd hires John Carpenter on their site as a subcontractor. Every month John is owed £1,500 pounds for his work.
Every month the company pays £300 (20% of the £1,500) to HMRC as John's taxes
The company sends a CIS statement or payslip to John as proof that £300 was paid to HMRC
The company pays the remaining £1,200 to John as payment for his work.
How do CIS refunds work?
In the example above John's annual income was £18,000 (£1,500 * 12).
This means John owes HMRC £2,370.20 (£1,230 Income tax + £1,015 national insurance).
However over the course of the year Big Woordworks Ltd paid £3,600 in taxes on John's behalf!
This means John is due a refund.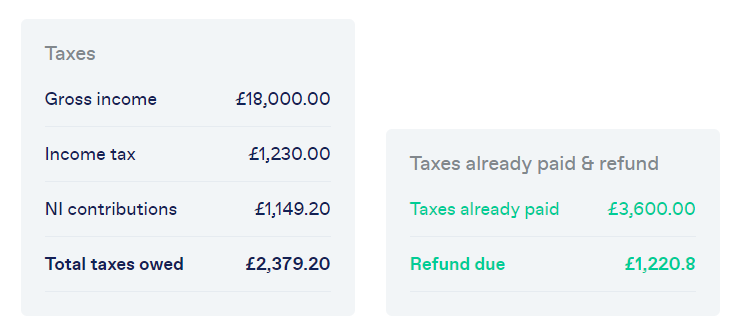 You can see the refunds due for other examples using our CIS rebate calculator.
For the self employed, the CIS refunds are handled through the annual self assessment return.
HMRC will pay back the tax owed, normally a few weeks after the self assessment is filed.